ESSEX RESPITE & CARE ASSOCIATION
Providers of
Support & Respite
Our Services
We provide care and respite for people with a mental health diagnosis and their carers…
Care & Support when you need it the most.
Supporting Individuals living with mental illness and providing respite support for their carers.
NEWS
Our latest news and updates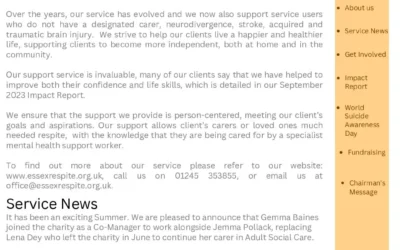 We are proud to share our Impact Report 2023. Discover the impact of our work in the local community.
Count on us
We strive to provide excellent support
Support Individuals with Mental Illness
Social & Therapeutic Activities
Attending Medical Appointments
Help Achieve Personal Goals
Support & Respite For Carers
"Debra was diagnosed with Paranoid Schizophrenia when she was 19 years old and whilst attending university. Due to becoming unwell, she was unable to complete the course. Debra become increasingly anxious and paranoid and she began isolating herself within her family home. Debra was admitted into hospital when she was 26 years old for 3 months…."
Call our confidential support line on 01245 353855.
Our office is open 9am to 2pm Monday - Friday